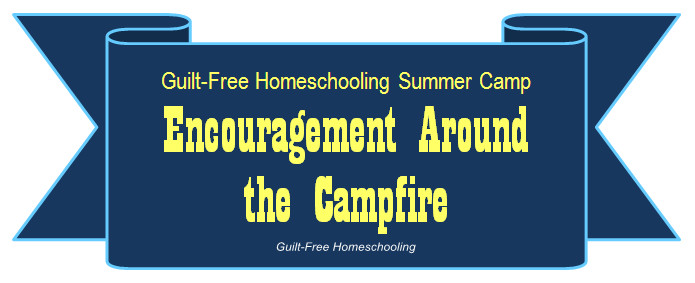 Sitting around a campfire can be a time of great encouragement as you share thoughts and stories with your friends, so we're here to share some encouraging thoughts with you. And what Summer Camp experience would be complete without a craft or two? Don't despair if you're not the crafty type–we've done the hard part for you. All that's left is the coloring—the fun (and therapeutic) part!
Below are some of the "mottoes" that helped us through the darker days of homeschooling, those days when books disappear, memory banks go blank, and everything you touch seems to turn to dust and fall through your fingers. Those days. These are the lines I found myself repeating over and over in those talking-to-myself "Parent/Teacher Conferences." These are the lines that I shouted in defiance at the discouraging "voices" that were playing on repeat in my head. These are the lines that reminded me of what I was doing, why I was doing it, and what a difference I was making in my kids' lives.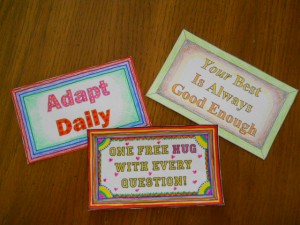 Click on any image, save it to your own computer, then print it out in whatever size you prefer. Color it yourself or invite your kids to color it or decorate it in any manner, and place the finished product in a location where you'll see it often. Make as many as you need! Put a small one on your bathroom mirror; put a big one above the kitchen sink; keep several in your planning notebook; make individual ones for your kids (they need encouragement, too); share them with your friends around the campfire (or anywhere), and share the homeschool grace. Listed below each graphic is a link to an article pertaining to that topic, just for a little more encouragement.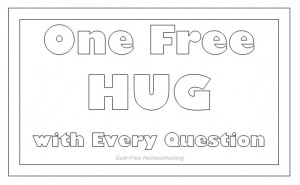 Top 10 Homeschool Mommy Myths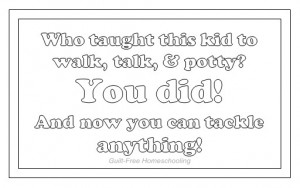 Who Taught This Kid to Walk, Talk, and Potty?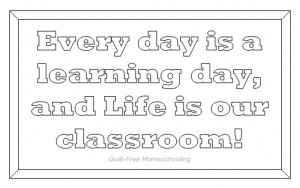 Every Day Is a Learning Day, and Life Is Our Classroom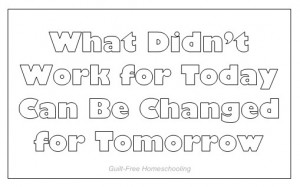 What Didn't Work for Today Can Be Changed for Tomorrow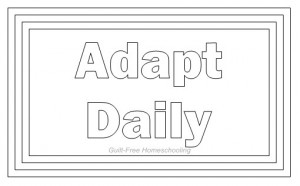 What Didn't Work for Today Can Be Changed for Tomorrow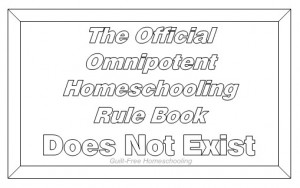 So You Think You're Not Smart Enough to Homeschool?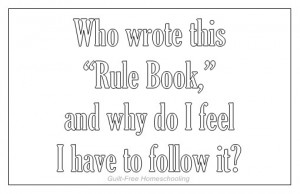 Who Wrote This "Rule Book" and Why Do I Think I Have to Follow It?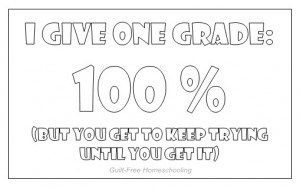 I Give One Grade: 100%—But You Get to Keep Trying Until You Get It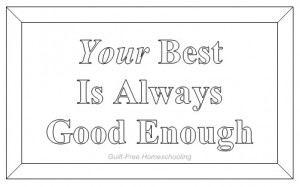 Read the entire GFHS Summer Camp series:
Homeschool Mommy Summer Camp
Homeschool Summer Camp FUN!
Homeschool Summer Reading Activities
Homeschool Summer Scheduling
Encouragement Around the Campfire