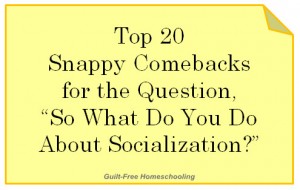 NOTE: Extreme sarcasm is present in these comments that have been gleaned from other homeschoolers, actually used ourselves, and/or are being held in reserve, awaiting the right moment. Our sincere thanks and admiration goes out to those intrepid souls whose remarks we have shamelessly borrowed.
So what do you do for socialization???
20. "Nothing. We just sit on the couch all day, staring at the wall."
19. "I don't believe in socialization."
18. "With our large family, I usually say, 'If you come down to breakfast in this house, you're socializing!'"
17. "I've seen the village, and I don't want it socializing my children!"
16. "Socialization? That is why I homeschool."
15. "Socialization is the easy part. I just corner the kids in the bathroom every few days and steal their lunch money."
14. "Oh, right, because (obviously) spending years with no one but her own family really hurt Laura Ingalls Wilder."
13. "New studies show that, contrary to popular mythology… the average home-schooled child has no problem 'socializing' with other children… as long as he remembers to use smaller words and shorter sentences." (From the Mallard Fillmore comic strip, 6/14/2005)
12. "The last thing I need is what you call socialization."
11. "What you consider to be socialization is what Karl Marx endorsed as Communism."
10. "We want our kids civilized, not socialized."
9. "I'm not relying on the state to socialize my kids."
8. "I prefer to have my kids learn to deal mostly with adults. The bullying you learn in middle school is only beneficial for bullying other middle schoolers."
7. "What swear word do you think my kids don't already know?"
6. "Are you worried about the quality of the education my children will get at home? Perhaps you should be more concerned about the type of education your children are getting in public school."
5. "Well, I guess I can teach my kids how to swear, and my wife can make them wait in line for the bathroom."
4. "You don't go to school—how do you socialize?"
3. "You mean because we live in a cave, never go to a store, a restaurant, or a doctor's office, never go to church, never visit friends or family, and basically avoid all contact with other human beings? How is it then that I'm talking to you?"
2. "Do you mean good socialization or bad socialization? Because it works both ways."
1. "Do you mean, 'Do I think my children are missing out on something by not being in public school?' Yes, they are definitely missing out on some very important things. They are missing the explicit, X-rated vocabulary from the playground, bathrooms, school bus, and every other unsupervised moment; the sexual harassment in the lunchroom on hotdog day; and the physical, mental, and emotional abuse from the little extortionist in the next desk who used to beat my child for the correct answers whenever the teacher's back was turned. My children do miss out on those things by not being in public school, and that is exactly why we are homeschooling!"
These responses can all be summed up by a conversation my son had with his driver's education teacher, a high school track coach who had worked with both public-schooled and homeschooled students. The coach was concerned that homeschooled students were ahead in some areas and behind in others. Curious, my homeschooled son asked in which areas the homeschoolers were behind. "Socialization," came the confident reply. Pressing still further, my son prompted the coach to explain exactly what the homeschoolers lacked. "My other students have been here for a long time, and they all know each other. When a homeschool student comes in for the first time, they don't know anyone here." My son's emphatic response was, "When have you ever gone somewhere for the very first time and known anyone there? And how is that a lack of socialization?" He's going to be a great homeschool Dad some day.
For more insight on the issue of Socialization, see these articles:
Socialization and Why You Don't Need It (a.k.a. The Socialization Myth, Part 1)
The Socialization Myth, Part 2
The Myth of Age-Mates
The Socialization Code
Bullying