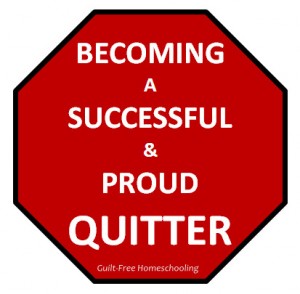 [This article was written by Jennifer (Morrison) Leonhard: Guilt-Free daughter and homeschool graduate.]
My mom (your usual Guilt-Free Homeschooling author) and I recently spoke at a homeschool conference. In one of our workshops, a mother commented that although she and her husband know the school system in which their child is currently enrolled is failing their child in several subjects, they did not want to pull him out to homeschool until the following fall because they do not want to set a bad example for him of quitting.
***Let's take a reality check time-out here. By leaving the child in a school system that is not teaching him, or that is teaching him incorrectly, what you, the parent, are teaching him is that quitting is not ok, but failing is awesome.***
One of the most important lessons that we learned during our first year of homeschooling was that sometimes quitting is the best thing you can do for your family. This is not to say that quitting is always the solution to a bad situation, but as a society we shun the idea of quitting as if it were a sign of failure. However, if you are already failing, sometimes it is because you have not quit something that you should not have done to begin with.
For example, at one point our family was a part of several homeschool groups at once, and we were going to every event, meeting, play date, field trip, and class day that came up in every one of them. We were over-committed, frustrated, and undernourished in good old-fashioned study and family time. Realizing that we didn't have to be at every event, or a part of every group in the area gave us more time to concentrate on what parts of education were important to our family — and honestly, sometimes the best field trips are the ones you find yourselves on topics your family is interested in, and in a time frame that works best for, again, your family.
This idea transitions to real, grown-up life, too. I have grown up to be a manager in several retail environments. I was a sales leader in my company and was promoted to management, and when I changed jobs, I was asked to be a manager again after a very short time of being an average joe. After nearly a year and a half of being a manager at the second location, I found myself frustrated that I was never seeing my husband, since we were both too involved in our jobs. I was not getting enough time with the rest of my family — I had to hire my brother and invite him to live with us just to be able to see him once in a while (huge blessing, although it took a little transitioning). And my focus in life was just not where I wanted it to be in the big picture. However, I felt pressure from my bosses that to leave my position for any reason beyond moving away or finding a more profitable job, would be failure. One weekend, filled with tears because it was the first time in 6 weeks that I had much time to see my husband, under huge pressure from work to spend extended hours at the store on a rare weekend off, and under the looming deadline of the homeschool conference that was really a highlight to my year (but for which I had no time to even delight in its proximity), I made the decision that would best benefit my health and my family — I had to quit. At first I felt shame, that I had failed, that I was a "quitter." I wondered how my friends and extended family would view this decision.
Looking back on my life, though, I saw a lot of situations in which it had benefited our family that we had quit something. Whether it was a textbook that was not suited to our needs, an activity or group that did not fit our schedule, or a day that simply was not going well and we all just needed a day off before diving back into the normal routine, there were many times when quitting was the best thing we ever did for our family. Since having left my position a little over a month ago, I have such a joy that cannot be compared. It was the right decision for my family — and sure, my bosses thought it was a mistake, but it felt really good when they asked me to rethink my decision. They did not think I was a failure, they asked me back because they felt I was a success. There are many times in life when quitting may be a bad decision, having one bad day may not constitute a valid reason for quitting, but there are other times when it can lead to great freedom and joy, and even other opportunities that are better for you and your family. Do not let the word "quit" scare you away from a different opportunity that may equal success.