Who has a child who can't focus on anything while sitting in a chair? Who has a child who loves playing games and sports, but hates worksheets and written assignments? Who has a child who tries to make everything into an exhibition of physical abilities? You're in luck! Let us help with some great ideas using beanbags that will enthuse your kinesthetic learner and keep him doing these learning activities on his own while you sneak in a coffee break!
Those energetic students are kinesthetic learners who need to move to be able to learn. Their brains don't fully wake up and begin to learn until their arms and legs get moving, so these beanbag activities are ideal for getting them involved, holding their attention, and helping them remember what they're learning.
Inexpensive, no-sew beanbags can be made quickly from discarded socks (no holes or thin spots) by cutting them to an appropriate size and pouring in dry beans or uncooked rice. Tie the ends shut tightly with string, yarn, or plastic zip-ties (trim the ends with scissors), leaving each beanbag about two-thirds full, so that the contents have room to slide around—if filled too full, the bag will be more likely to burst when it lands. Aquarium gravel is a suitable waterproof filler, just in case your beanbags are likely to get left outside in the rain.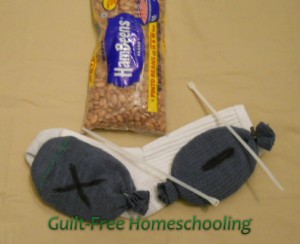 What can you do with all the wonderful beanbags you'll create from your orphan sock stash? Use them for "throwing stones" for hopscotch (and all its variations), whether playing on the sidewalk, driveway, or patio. For indoor activities, hopscotch grids can be drawn with permanent markers onto an old bed sheet or tablecloth, but please use caution when using a cloth on hard surfaces to avoid slipping.
Learning Activities with Beanbags
Matching — If your clothes dryer has given you an abundance of sock orphans, you can mark them with letters or numbers for some preschooler's matching activities.
ABC's — Toss a beanbag onto a jumbo ABC-grid and make the sound of the letter selected. Older students may say a word that is spelled with that letter (beginning, ending, etc. your choice). A bigger challenge is to toss two or more beanbags onto the ABC-grid and think of a word that uses all of them.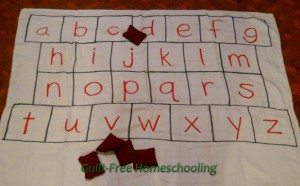 1-Sentence Stories — Lay out word cards on the floor (sticky notes will stay in place), toss beanbags onto several words, and create a one-sentence story that includes the words selected.
Hopscotch Variations — Make a parts-of-speech hopscotch grid and play the standard hopscotch game with the rules for numbers, but have players give an example of the part of speech selected, such as saying "ticklish" when picking up the beanbag from the adjective section, "skeleton" for a noun, or "angrily" for an adverb. This method can be varied for other subjects, too, such as naming the sections Nations, States, Cities, Lakes, Rivers, and so on for geography. Students would then have to name an appropriate geographical feature.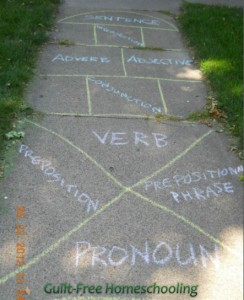 Math Symbols — Mark some beanbags with math operation symbols and toss them onto a jumbo 100-grid for instant math problems. Throw an unmarked beanbag onto a random square for a starting number, then draw a random operation-symbol beanbag from a sack or pillowcase and toss it onto another square, using that number for the designated operation. Repeat as long as your supply of beanbags lasts. Pencil and paper may be used to assist in calculations, but careful aim and an accurate toss may be the most help.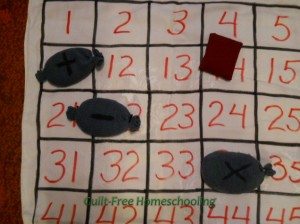 Target Practice — Use laundry baskets or cardboard boxes for target practice to improve eye-to-hand coordination and tossing skills (just don't hit the lamp!).
Juggle — Learn to juggle!
These beanbags are quick to make and will add hours of fun to indoor or outdoor playtime, and they are a great way to make lessons kinesthetic for your active students!
See also:
Hopscotch, a Powerful Learning Game
Letter or Number Manipulatives (DIY)