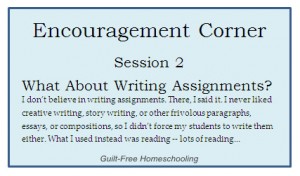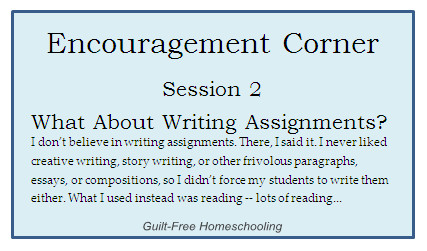 Encouragement Corner is a new feature here at Guilt-Free Homeschooling, sort of a mini-seminar for the busy moms who can't spare the time or expense to go to a major homeschooling conference, but who still need answers to their biggest questions. We'll be grouping a few of the most-often-recommended articles around a central issue and making those articles easier to share on Pinterest by adding a photo or graphic as needed.
I don't believe in writing assignments. There, I said it. I never liked creative writing, story writing, or other frivolous paragraphs, essays, or compositions, so I didn't force my students to write them either. What I used instead was reading — lots of reading, and grammar lessons. I only held a formal reading class during the learning-to-read stage, and once my kids were reading fluently by themselves, I let them choose their own pleasure reading to serve as an unstructured subject. Since they each spent as much (if not more) time telling me about what they had read than it actually took them to read it, I wasn't at all worried about their reading or comprehension skills. Relaxing with a book at bedtime was a great way to unwind from the day, and it didn't feel to them like yet another academic endeavor.
I frequently read aloud to them, and they read to themselves from a variety of sources (fiction, non-fiction, poetry, biography; books, magazines, newspapers, web articles, etc.), giving them vast understanding of many different types of writing. Exposure to a multitude of authors showed them how any given genre could be handled in a multitude of ways. My students loved some authors' writing styles enough to read everything they could find by those authors. Other authors' writing styles were so cumbersome and awkward that they closed the book and moved on with no regrets for not finishing.
As my students matured and developed their own voice (meaning personal thoughts and opinions) on various topics, they were able to express them coherently, in part because they had read how others had expressed ideas through the written word. Their first serious writing assignments came from a composition class at the local college (taken during their Senior year of high school), where the teachers were impressed with their writing abilities. They could write good summations of their reading and research, because they were already accustomed to reading and evaluating, and the results were scholarly compositions.
By skipping several years of trivial paragraph-writing, my students had been able to read a wide variety of sources. They had learned how to form their opinions into logical arguments. Their minds weren't cluttered with topic sentences and formulaic outlines. They were able to reproduce any type of composition just by reading it and analyzing the key components. They had read good writing, they had found a voice, and they had many interests which afforded them numerous topics for their composition needs. Delaying the writing assignments worked very well for us.
Linked below are our most commonly recommended articles on writing (as composition, not to be confused with handwriting), to help you decide how to tackle this topic in your homeschool.
Tests, Book Reports, and Other Un-necessities 
Teaching Spelling (and Grammar) Through Reading and Listening
Grammar with Giggles, Mad Libs Style
How to Adapt Lessons to Fit Your Student's Interests and Make Learning Come Alive