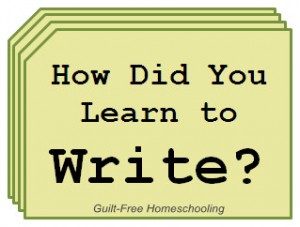 The college professor handed out an in-class assignment to all of the students and then bent down near the two homeschooled students seated in the front row. Pushing their assignments aside, the professor huddled very close to them and spoke in a low voice of the type usually reserved for sharing state secrets. "How did you two learn to write?" she asked.
The two friends exchanged glances and tried to decide how to answer the unusual question. "We read a lot," they both ventured.
"But how did you learn to write?" the professor continued, "No one else in this class can write — at least not like you two can. I know you were both homeschooled. What program did you use to learn how to write?"
The sixteen-year-old part-time college freshmen were also both still high school students at home, one a Junior and the other a Senior, and they knew that they had not actually used any specific writing curriculum. "We read a lot of books," one repeated, "so we know what good writing should look like." "And we learned grammar," offered the other.
"But who evaluated your writing?" the professor kept probing.
Another glance was exchanged. "You mean… our… Moms?"
"That's it? You read books, and that's how you two learned to write like this? I rarely have a first-year student who can write a coherent sentence, and you two are telling me that your mothers taught you how to write this well by teaching you grammar? I am impressed!"
These two students revealed that they had learned by example: reading was their primary source for instruction in composition. Reading a variety of literature and learning the basics of grammar had set them apart from the rest of their English Composition I class and from the bulk of the students that this professor had encountered. The writing experiences of these homeschooled students prior to the college class had included writing a newspaper article and a short novel in group classes, but they had no previous exposure to analogy, comparison and contrast, or the other forms of composition introduced in this college class. Observation and imitation were their keys to success in writing: see an essay — write an essay. The quality of writing that had been observed through reading was easily reproduced in writing assignments.
My recommendation is to start your children out with phonics to teach them reading and basic spelling rules. Add in handwriting and let them practice copying anything and everything that interests them so that they can become confident in their own abilities to reproduce written material. Begin adding basic grammar rules once the students have mastered reading and add more complex rules as the students' abilities increase. Regard vocabulary as an ever-expanding knowledge base, and use the dictionary daily to confirm suspected meanings, solidify pronunciations, and discover various word forms. Promote their consumption of all manner of reading materials, and discuss passages read to ensure comprehension of concepts and ideas, beyond mere words and sentences. Observation will lead to imitation, and the more they read, the better they will be able to imitate what they have read. Once the student has a broad background in reading a variety of materials, after he possesses a fairly substantial vocabulary, and when he has a solid foundation in grammar, then he can be expected to complete a writing assignment with proficiency.
I did not force writing assignments, such as book reports, journaling, or essays. In our past experiences, the public schools seemed to think that children should be composing stories even before they could spell simple words or form a sentence. The teachers there encouraged "creative" spelling, resulting in some rather curious inventions. If my students wanted to write something, I let them. However, with my students, that did not happen often. If ever. I did have them write thank-you notes when necessary, but that was about the extent of my imposed writing assignments. Grammar study was another story. I did insist on grammar lessons, along with lessons in fundamental spelling rules and proper use of punctuation. If you want to use a skill, you need the proper tools, and those rules are the tools needed for the skill of writing.
I did use a program during high school that taught how to read and analyze, a much-preferred alternative for us to the common creative writing programs for high school students. It was a 3-workbook set called The Elements of Clear Thinking and focused on effective communication and analyzing and revealing fallacies in reasoning. My students were not interested in writing fiction or poetry; they were much more focused on non-fiction, informational content, but not the dry reports or book reviews that usually require no critical thinking skills. The excerpts used in the Clear Thinking books came from authors, politicians, and world leaders, from magazines, newspapers, and biographies. What my students learned in those books prepared them for reading a wide variety of sources as required by their college classes and enabled them to organize their thoughts for writing logical arguments. (If you are interested in purchasing the Clear Thinking series for your high schooler, I highly recommend buying the answer keys as well.)
A student who can read fluently will be able to read a wide variety of literary forms and understand what he is reading. The more that student reads, the more that student will understand and retain about the proper structure of language. Grammar instruction will give the student opportunities to practice proper sentence construction without having to invent his own subject matter (creative writing uses entirely different skills from mere grammar practice). What the student has learned about the mechanics of written language and witnessed through first-hand observation of written language will be reproduced with proficiency. But I cannot promise that the college professors will not be baffled.
Update:
The Elements of Clear Thinking series has become a little tricky to find, so these links will show you what to look for:
The Elements of Clear Thinking: Accurate Communication
The Elements of Clear Thinking: Critical Reading
The Elements of Clear Thinking: Sound Reasoning
Note: My kids described some of the excerpts in these books as boring, confusing, or too intellectual, and I agreed. As a substitute for the more complicated passages, we went to the library and found long magazine articles covering topics that were more interesting (one article had to be at least 6 pages long for an amount of text comparable to the longest excerpt). The details are more fully explained in Kids Will Be Kids.