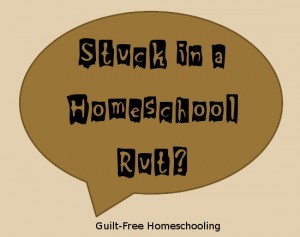 Linked below are a few articles from Guilt-Free Homeschooling that will help you personalize and improve your homeschool routine. These are not all of the articles that may apply to your unique situation, so please browse through our Titles Index and Topical Index for any other articles that may interest you. Articles are listed here in alphabetical order for ease of reference — feel free to read them in any order.
Curriculum Choices and Shoe Shopping, an Analogy
Do the Best Job You Can and Pray for God to Clean Up the Rest
Involving Dads in Homeschooling
Learning to Walk — Seen as a New Lesson
Mundanes, Too-days, and Woe-is-me-days
Reminding Myself of My Ultimate Goal
The Value of Supplemental Activites
What Didn't Work for Today Can Be Changed for Tomorrow
Who Wrote This "Rule Book" and Why Do I Think I Have to Follow It?
Your Children Will Not Always Be Like This