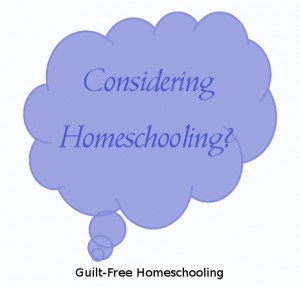 Linked below are a few articles from Guilt-Free Homeschooling that will help you in making this important decision. These are not all of the articles that may apply to your unique situation, so please browse through our Titles Index and Topical Index for any other articles that may interest you. Articles are listed here in alphabetical order for ease of reference — feel free to read them in any order.
50 Reasons Why I Could Never Homeschool
Any Dead Fish Can Float Downstream
But Public School Is Free… Won't Homeschooling Cost a Lot?
CanYou Convince My Husband to Homeschool?
Common Homeschooling Myths Dispelled
Disadvantages of Homeschooling
Homeschool Beginnings — A Child's Point of View
If You Have Children, You DO Homeschool
Should Children Be "Witnesses" in Public School?
So You Think You're Not Smart Enough to Homeschool?
Socialization and Why You Don't Need It