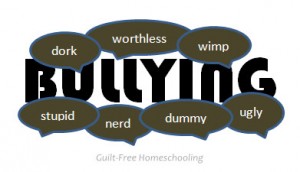 Everyone encounters bullies somewhere. Even homeschooled kids can be confronted by a bully in group activities or once they become old enough to enter the work force. "Forewarned is fore-armed," so we are presenting several strategies for equipping your children to recognize bullying behavior and strengthening them to be able to deal with bullies effectively. The headlines are current proof that when allowed to continue unabated, bullying will escalate to extremely serious, even lethal consequences. Our aim is to help you stop it in its very early stages. Since not all of our readers are able to homeschool, this article also addresses bullying in school situations. Many of the scenarios presented here are also used by adults, whether deliberately or just out of habit. As parents and role-models, we must break the cycle of bullying among our own peers, as an example to our children. Some readers may object to the statements made in this article, and those who do are invited to take a long, hard look at their own behavior, beliefs, and values, because they may unintentionally be using bullying tactics themselves.
Why Bullies Bully
Bullying affects almost everyone in some way at one point or another. Some people willingly and eagerly push others around (whether physically or verbally) in an effort to make themselves feel more powerful or important. Some people become their unfortunate victims, just by being in the wrong place at the wrong time. Simply put, bullying is a way to manipulate and control other people.
Help your children see that people who pick on others have been picked on by someone else.  Explain that the kids at the park who say mean things are probably being verbally abused by others—very likely by their own family members. When kids have someone in their lives who is routinely insulting to them, they feel the need to pile insults on someone else. They have learned through what has been done to them that it is right and acceptable for them to do this to others. Many families know nothing else: all forms of abuse become generational, simply because no one knows any other way to behave. For someone who comes from an environment where name-calling and ridicule and manipulation are rampant, bullying becomes their interpretation of "appropriate" behavior. Knowing nothing other than this pitiful behavior, they grow up to continue the hurtful legacy with their own children. Breaking the bullying cycle requires adults who are willing to reassess their own value systems and stand up against the patterns of needless hurt, but it can be done successfully.
I know a woman who accepts bullying from her friends because she is dependent on the company and approval of others for entertainment and self-worth. She bullies her friends in return, trying to manipulate them into doing what she wants to do. She's a grown-up who never learned to cope with bullying in a grown-up manner and therefore dishes it out herself as part of an endless cycle.
Subtler  Methods Used by Bullies
It's easy to identify the playground bully who shoves other children out of his way and stomps on their toys. The adult bully who loudly curses at the Little League umpire or uses his vehicle as a road-rage weapon is also easy to spot. Recent headlines have provided horrifying examples of bullying taken to such extreme ends that it resulted in murders or suicides. However, most bullying begins with much simpler, less conspicuous methods. Beyond the obvious punching, hitting, and name-calling, there are many more subtle forms of bullying:
Putting down others just to make oneself feel good
Telling someone they are "useless," "good at nothing," "a baby," "a loser," or other demeaning labels
Making rude comments that only the bully considers to be funny, but everyone else recognizes as just rudeness
Not allowing others to voice their opinions (especially dissenting opinions), whether objecting face-to-face, behind the back, or through social media
Needing to have the last word
Touching someone who doesn't want to be touched, no matter how lightly
Tickling!
Reprimanding a student for asking too many questions in class or for answering questions too frequently in class
Labeling a child as ADHD or other "disability" where none exists, just as a method of controlling the child's thoughts and behavior. [I've seen teachers label eager-to-learn students as ADHD to make them be quiet, because they (consciously or subconsciously) didn't like the student's teach-me-more attitude.]
Exhibiting overly dramatic behavior or adding drama to nondramatic situations to gain attention, create or break alliances, and fuel their own desire for power or control
Bribing others to be nice (doing whatever it takes to maintain control)—not to be confused with rewarding good behavior [see Is This "Acceptable Behavior"?, linked below]
Insisting on being bribed to be civil
Being irresponsible as a means of controlling a situation, such as not doing a task that others are depending on
Making excuses and/or blaming others for their own irresponsibility, mistakes, and shortcomings; the need to assign blame for whatever goes against their wishes; not accepting the premise that they can be at fault
Keeping others waiting, as a means of control
Arriving unprepared and making excuses, rather than admitting it; forging ahead anyway, assuming his (or her) "talent" will make up for it
Whining, as a means of control
Treating every facet of life as a popularity contest
Assuming everyone adores and admires him (or her) and getting angry and vengeful when someone doesn't
Not allowing others to learn to lead; won't delegate or train a replacement; believes no one else could possibly do what he (or she) does as well as he does it
As a leader, serving his (or her) own purposes first, before the group's
The most frequent bullying I had to endure in my own school years was from my teachers: drawing the other students into laughing at one who had fallen asleep or given a wrong answer, rolling his or her eyes at a student who asked a question that the teacher felt had an obvious answer, asking pointed questions of a poorly achieving student to emphasize his lack of preparedness. One of my teachers in high school dubbed one of my classmates "Flycatcher" because she yawned once without covering her mouth, and he called her that for the remainder of the year. I even had an elementary teacher who got angry with a little boy who kept putting his hands in the pockets of his jeans. She stood him at the front of the room, pinned his pockets closed with huge safety pins, and then forced him to stand there while she led the rest of the class in pointing fingers at him and singing a little ditty about putting his hands in his pockets, and not just once—she made us all repeat the song several times and encouraged us to repeat the song any time we noticed him with his hands in his pockets. I found it horribly humiliating, and I wasn't even the boy being singled out for embarrassment by the teacher. Should I mention the set of monstrous rubber ears she made another student wear who was caught not paying attention? I doubt that any of her students went home to tell their parents about what a bully that woman was, just because she held that much power over them. Even if the parents had learned of her abhorrent methods, they were just as afraid of her as their children were, and no one would dare to cross her. That teacher had no respect for the children she taught, and she proved it through her bullying tactics.
In institutional school situations, teachers, staff members, and bus drivers are now being encouraged to stop bullying when they see it. Schools and communities are enrolling in popular anti-bullying campaigns today. However, those same authorities aren't likely to judge a few quick remarks or intimidating glances from one student to another as bullying, but instead consider it just as "kids being kids." After all, if they recognized those methods as bullying, they would have to stop using those methods themselves! A closer look at some of the anti-bullying propaganda reveals that they are attempting to bully the bullies into submission. Is that really supposed to be an improvement?
As a homeschool parent, I witnessed bullying from adults in church situations—and I must admit that much too often in our experience, those adult bullies were closely connected to the public schools as teachers or support staff. They viewed their own behavior as being "instructional" or "disciplinary," but it is just flat-out bullying when an adult ridicules another person (of any age) for any reason, especially when they encourage others in the room to ridicule and laugh at their victim, too—or they don't stop those who are bullying through ridicule, name-calling, finger-pointing, or other unacceptable behavior.
Parents are not immune from bullying either, and often exhibit it toward other parents. Consider the moms who put hours and hours into organizing some mom-and-kids events, only to have other families arrive late or not show up at all (despite their promise to attend) or complain about the details of the events. They are showing disrespect for someone else's work by making sure it doesn't happen as planned. It's subtle sabotage, and it's bullying to maintain control. Yes, there are times when unavoidable delays happen, kids get sick on the way out the door, or numerous other problems might prevent a family from fulfilling their plans. However, one quick phone call can let the others know what has happened, and even if the apology comes a day after the missed event, respect and appreciation are still shown to the organizers. The person who undermines the plans and hard work of others is a bully who wants to control events to keep all the attention focused on himself. Ignoring the effort, commitment, and time expended by others on your behalf is a form of bullying. If you join a group, whether an organized club or an informal play group, you must be willing to set aside time on your calendar to participate. If your time, money, and energy are too important to be wasted on the group, do the other members a huge favor by dropping out and letting them get on with their plans.
This also applies to that one family whose single veto can shut down an event that all the other families in a group want to do. No matter if the group is made up of public school parents, homeschooling families, church members, sports teams, or dance moms, allowing a single voice to overrule the majority for his (or her) own selfish reasons, is openly granting bully privileges to the troublemaker. If one family doesn't approve of a specific event, they don't have to come. If they are not available during the scheduled time frame, the group shouldn't be required to change the entire schedule to suit the bullies. On the other hand, if all members of the group are in agreement and are making a courteous effort to accommodate each other, that's completely different from one member disrupting everyone else's plans, just for his personal convenience. Mutual respect compromises; bullies command and control.
Some people are able to break the pattern of bullying and stop the abuse; others carry it on, and the bullies from high school become the bullies in the workplace. Bullying is nothing more than showing disrespect. Most bullies don't even know they are bullies—they just know that they are only happy when they get everything they want. They don't have enough consideration for anyone besides themselves to even know they are being disrespectful. Narcissism and bullying go hand in hand.
Ways to Deal with Bullies
Be extra-nice to take the power out of their "punch."   Proverbs 25:21-22 "If your enemy is hungry, give him food to eat; if he is thirsty, give him water to drink. In doing this, you will heap burning coals on his head, and the Lord will reward you." (NIV) Thinking back to the two main bullies I had in school, Mom pointed out Proverbs 25:21-22 and Matthew 5:44 to me and told me to be super-duper nice to them when they were being mean.  If they said something mean, then I said something complimentary to them. If that didn't work, then I asked them if they wanted to hear about Jesus or pray with me, and they just started avoiding me. ~Jen
Pray: God can change what we can't.  Matthew 5:44-45 "But I tell you, love your enemies and pray for those who persecute you, that you may be children of your Father in heaven. He causes his sun to rise on the evil and the good, and sends rain on the righteous and the unrighteous." (NIV) God loves the bullies just as much as He loves anyone else, so pray for Him to bless them and make their lives better, taking away their need to hurt others.
Empathize. Consider why the bully acts the way he does, perhaps he is being bullied by a family member or other authority, such as a teacher, coach, or boss. Understanding that, we can be sympathetic to him, although we probably can't fix his problems. Parents can also help their kids to see that they don't have that abuse happening elsewhere in their own lives (like the bully does), which is a good thing. It can confirm to the child that the name-calling is only the bully's opinion and no one else's.
Expend energy. Whether you're crocheting an awesome princess costume for your friend's cat, kicking a soccer ball around the yard as hard as you can, running a few miles, hammering nails into a block of wood, or cleaning out the shed just because it's fun to break up all the junk and slam-dunk it into the trash can, finding a way to use up all your pent-up aggression will help you to decompress from the stress of the situation. While working at a consignment shop, my daughter would occasionally notice an employee being harassed by a rude customer and assign that co-worker the task of hauling discarded glassware out back to the dumpster. A session of practicing 3-point-shots with cracked plates and chipped vases never failed to redeem that person's entire day!
Respect yourself. Finding your self-worth from what peers think of you makes you more susceptible to bullying and peer pressure.  If you have learned to find pleasure in your own company through hobbies and personal interests, you won't be dependent on others to provide you with entertainment, and bullies won't be able to control you by taking away your sources of pleasure and recreation.  Someone with hobbies, interests, and proficient talents is also less likely to believe another's put-downs and more likely to have friends who will defend their worth. If your child is being bullied, build up his self-image by reminding him of the things he is good at and the things you as a family value in him. Give him a list of positives in his life, and let him know that you see worth and value and importance in his life. Can he make awesome origami animals? Does she have the recipe memorized for chocolate chip cookies? Has he never yet been stumped by a math problem? Has she picked up complex lesson concepts more quickly than you anticipated? Does he have flawless rhythm or a beautiful singing voice? Can he impress Grandma with his card tricks? Has he studied his hobby extensively and can rattle off dozens of facts about it? Think about all of the skills your child has that you consider ordinary just because you see them every day, and let that child know that not every kid can do these things. These are the skills that make him special and unique and important. Being able to entertain oneself through those hobbies and interests means that even when no one else is available, you can still be in the delightful company of yourself, where every activity is enjoyable.
Respect others. Respect and bullying are polar opposites. Teach your children that everyone has value, everyone is good at something, and everyone is knowledgeable in some area. A person who respects others can learn something from every person and every situation. Teach your children that unkind words are not acceptable. We had a favorite children's book called Never Tease a Weasel that we quoted often, as a reminder that teasing was a form of bullying and unacceptable behavior: "Never tease a weasel, not even once or twice. The weasel will not like it, and teasing isn't nice." The excuse of "I was just teasing" is a definite sign of bullying.
Surround yourself with positive influences. If someone has enough supportive friends and family around them, a bully isn't going to take them on—they're too well protected.  In extreme cases, that may require walking away from an unsupportive, negative situation. If that means leaving public school and beginning homeschooling, or finding a better homeschool group, church youth group, club, or whatever—do it. After all, you joined these groups for their positive influences, so if they only offer negativity, then they aren't the right groups for you. Removing yourself from a bad situation, leaving a group, not replying to a rude comment, or any other method of "walking away" is not defeat—it is actively taking back control over your own life by breaking the cycle the bully needs to continue to maintain his power and control.
Involve yourself in your child's situation.  My husband used to join our daughter for lunch occasionally at her public school.  She felt protected and encouraged by his presence, and whenever a bully came up she could introduce her dad, and suddenly the bully wouldn't want to bug her any more. (He also may have promised to hire a big 5th grader to beat the kid up if he didn't stop behaving badly, but that's mostly an unsubstantiated rumor.) Years later, when bullied in her workplace, Jen used her established friendships with her managers to let the bully know that she had influence in high places.  She could casually ask her managers "Do you know what's wrong with Mary? She seems angry anytime I talk to her." Then they would ask Mary why she was upset, sending the subtle message that they were looking out for Jen, too. By surrounding herself with metaphorical parents and siblings, she let the bully know she had a powerhouse of support.
Be weird. Weirdness scares bullies, who are counting on predictable reactions.  If you are a loose cannon, you are intimidating. Example 1: My daughter works in a retail store where she wears elf costumes to work during the Christmas season. Her curious attire and jovial spirit are welcoming to the innocent shopper and threatening to the co-worker bully who just doesn't understand how anyone can be that happy all the time. Example 2: My son enjoyed his buddies and loved them like brothers, but one day things had gotten to the point of him always being the victim of their shenanigans. He restored balance quickly by seizing opportunity and turning his face to sneeze directly into the face of the oldest and largest boy, who didn't mess with him after that. Incidentally, bullies usually don't have a true sense of humor, since that requires showing appreciation for another's creativity. A rubber chicken produced at an opportune moment can be a delightfully effective, yet harmless weapon against a bully. Hone your inner Robin Williams; yodel along with your iPod; disclose a secret wacky talent; scream like a velociraptor; or reply to a bully, "I'm sorry, I don't speak English," spoken in perfect English.  Catch a bully off-guard with something bizarre, and he won't have a prepared response, and that takes away his power and control.
These coping strategies may not completely convert a bully back into a human being, but they can enable someone to tactfully deal with him and remove his phony authority from the situation at hand. Family-as-a-team provides the wonderful advantage of familial support, giving children more reassurance of their worth and status, the things that help them recognize the lies that bullies spew. A child who knows his own value will not be intimidated by a bully—he will be more apt to scoff sarcastically, "Yeah, right, good one," and walk away.
Teacher-bullies are an example of a bully that can't usually be overcome by being nice or funny. They have all the control in their own territory, and as the supreme authority, they are power hungry. This is where parents can step in for their child and try to settle matters, but a true bully teacher still won't be intimidated. They will hurl all the typical arguments (excuses) of how they know what's best since they are the "professional," they have taught this way for years, it's your wimpy kid who's the real problem, and so on, ad nauseum. The administration will stand behind their teacher, unless you can produce copious amounts of evidence and witnesses to the contrary. The only way out of that circumstance is to change classrooms, change schools, or homeschool—my preference.
The hurtful things that rude people say to us are like bags of garbage they throw onto our doorstep. We can't stop them from dumping their garbage there, but we don't have to drag the garbage into the house, dump it all out, and spread it around on the furniture. Let a bully's hurtful words remain outside your door—they don't belong to you. To counteract bullying, you have to break the cycle and disrupt the bully's plans.  A bully cannot be a bully without a victim. Refuse to cooperate with him, walk away, or do anything necessary to leave him victimless.
See also:
Becoming a Successful and Proud Quitter
Is This "Acceptable Behavior"?
If You Can Present Your Case with Facts and Logic and Without Whining, I Will Listen with an Open Mind
Teach Your Children the Art of Amusing Themselves
Never Tease a Weasel (children's book)