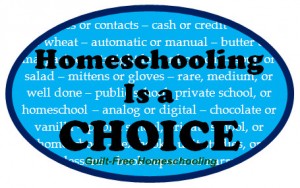 Our lives are filled with choices:
— glasses or contacts
— milk chocolate or dark chocolate
— cash or credit
— white or wheat
— automatic or manual
— butter or margarine
— straight leg or boot cut
— soup or salad
— analog or digital
— chocolate or vanilla
— mittens or gloves
— rare, medium, or well done
— public school, private school, or homeschool
When we first began questioning acquaintances about their choice to homeschool, they all were very reluctant to divulge anything. We persisted with a few and finally succeeded in getting some friends to open up and share their perspectives. We were not assuming that our situation would be identical to theirs — in fact, quite the opposite was true: we knew our exact situation was uniquely ours, but we wanted some information for comparison. However, the homeschooling families we spoke with seemed fearful of influencing our decision by explaining the reasons behind their choices. No matter if the question was whether to leave public school or how to select a phonics program, whenever we asked, "Why did you choose this?" they seemed to hear, "What do you think we should do?"
If I ask if your opinion of a certain movie, I will also ask you for your reasons: was it funny, was it violent, was it vulgar, was it cliched, did it "work"? I prefer romantic comedies; if you prefer historical dramas, personal recommendations may be of little value. If you ask me about a specific type of homeschooling material, I will give you my reasons for liking or not liking it. Materials can have excellent qualities, but not meet my students' needs, or materials can be less than ideal, but still be good enough to suit a short-term purpose or a limited budget. Knowing information about the material itself will be much more helpful to you than simply knowing whether or not I liked it. In selecting homeschooling materials, your family's needs should be more influential than another's personal opinion.
Choices are also subject to change, depending on present situations. Once upon a time, I could not drive a manual transmission automobile, evidenced by my brother's frustration as he tried to teach me. His job would have been easier if I had known how to drive anything at that time, but years later, a friend taught me to drive a stick shift, almost as quickly as my brother had given up. I had changed, and my motivation had changed. When I had a good reason for wanting to drive a manual transmission car (my husband and I had just purchased one as our only vehicle), I was suddenly very motivated to conquer this gap in my education. Once upon another time, I had no personal interest in homeschooling, but my opinion changed as quickly as my children's needs changed. Our original choice for public school was replaced by a choice to homeschool as the standardized education proved inadequate for my children's individual needs.
During our first years of homeschooling, I was anxious to "fit in" with other homeschoolers and do things "right." I wanted to see and hear how other families did things, if for no other purpose than to glean ideas that we could apply. As time went by, I began to free myself from the more manipulative members of our homeschooling community, those who tended to insist that every family should be studying the exact same topics that they were studying and to the same extremes. We participated in once-a-month activity days, but we did not extend our participation much beyond that. Occasionally, an activity that did not appeal to us would conveniently conflict with our schedule, freeing us to stay home, Guilt-Free. Later on, when I had fully developed my own style of homeschooling, I knew I was free to reject the other methods of homeschooling that were pushed at me.
We are an eclectic family. We are spontaneous, rather than scheduled. We have antique furnishings sitting right beside contemporary pieces. We enjoy what we enjoy, because we enjoy it. Other families thrive on structure, live by their tightly scheduled calendars, and absolutely adore having someone else select everything they need for homeschooling and deliver it all in one package. Still others like to spend months on one topic, delving into all possible aspects, before moving on to the next thing. The differences between us are rooted in our families' preferences and reflected in the choices we make.
My choice is my choice. Your choice is your choice. The choices others make may have little bearing on what choice I ultimately make. I will probably check into several options before making my final selection, and what I do pick will be the best for my family as a unit and as individuals. If I make a choice too quickly, I may regret it and need to try again, or I may be satisfied with my first choice and find no need to change.
I chose to educate my children at home, parting company with the public school system. Some of my friends also chose to homeschool, many more chose public school, and a few chose private school. Of my homeschooling friends, some leaned toward a classical education, some opted for unit studies, and others chose the school-in-a-box, prepackaged curricula. I took a little of this and a little of that for an eclectic approach. Neither a more structured plan nor a total avoidance of textbooks is better or worse than the mixture that I used; it is simply different.
Pressures to conform to others' choices come from all sorts of outside sources, and maintaining your focus takes diligence. Even now, I am often invited to branch out from this writing to become involved in other facets of writing for homeschooling. When that happens, I remind myself of my purpose and my goals, making it easier for me to discern distractions from opportunities. If you choose to teach your children at home, know why you chose that, and remind yourself of your own purposes and goals as often as necessary to maintain your focus. Do not consider the mere presence of an option to mean that you must accept that offer. Choosing means saying either yes or no.
When acquaintances ask about homeschooling, there is no harm in sharing your choices and the reasons behind them on an informational basis. Encourage those who are going through the choice process to choose what seems best for their situation, because circumstances can change, and our choices may someday be changed also. Remember that the final choice is theirs, and what they choose may be different from your choice or my choice, but it may still be the right choice for them.
Our lives are filled with choices:
— glasses or contacts
— white or wheat
— analog or digital
— chocolate or vanilla
— public school, private school, or homeschool
— textbooks, unit studies, or video lessons
— book reports or narration
— repetition or exploration
What are your choices?