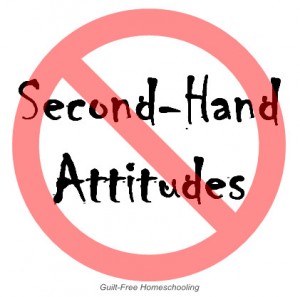 I refer to a "second-hand attitude" as a mind-set that is not a part of your core family philosophy. It is an attitude that is held by another party outside of your immediate family and that has been subconsciously adopted by a member of your family who does not actually hold to those beliefs himself. It is not your attitude; it is someone else's attitude, but you are wearing it. Second-hand attitudes can come from a wide variety of sources and show up in an equally wide variety of ways.
"When you put your hat on, the attitude just takes over, and you can't stop it," the older woman responded to a her adult daughter, who was concerned as to why her normally mild-mannered, very polite mother had suddenly become an obnoxiously loud, rude customer. The mother and her group of friends regularly don their unique wardrobe for social outings, but their uniform of choice has had a rather anti-social effect. Sales associates would often prefer to run and hide, rather than deal with these customers, and other shoppers can be seen giving them a wide berth, getting out of their way. This is not a scene from the Jim Carrey movie, The Mask, where an ancient tribal facemask holds mystical powers and transforms any wearer into an alter ego. This is real life. It causes me to wonder just how well the same argument of "I can't help it" would have worked for the daughter, had she used that excuse when she was a misbehaving child. I am guessing it would not have worked well at all, so why does Mom think it is a valid excuse for herself now? The rudeness is simply a second-hand attitude that Mom picked up from her friends, but she is attributing it to an inanimate object from her closet.
My young daughter used to spend occasional nights at Grandma's house, which were followed by extensive shopping excursions the next morning. They would make the rounds of dollar stores and half-price stores, prowling through the low-priced trinkets, and my daughter would usually come home lugging a bag of treasures that Grandma had purchased for her. The most serious item she brought home, however, was a change in attitude. Suddenly, in place of the kind, gentle, and helpful member of our family, there was a dramatic, selfish, commanding, and demanding Princess. Her every whim had been catered to and every desire had been fulfilled, to the point where she believed that she was entitled to that excessive amount of attention and expected that service to continue at home as well. Sorry. That ain't happenin' here. Grandma's attempts at bonding resulting instead in a second-hand attitude.
During their high school years, my son and some other boys became good friends with a twenty-something single man at church. The young man felt he was mentoring the boys, but the results were so objectionable on our end that we had to curtail our son's involvement in the relationship. He would come back from group activities with the guys wearing a very irresponsible attitude and stating that it should be acceptable for him to stay out until the wee hours of the morning just because his older friend was along, even though he himself was not yet even old enough to drive. Aside from the premature independence issues, "accidents" and "incidents" seemed to follow this group wherever they went, and the young "mentor" showed himself to be more of a ringleader in mischief than a role model for mature behavior. Again, sorry. That ain't happenin' here. Suffice it to say that a mid-teens boy should not take on the mind-set of a post-college man, and since the troublesome attitude enveloped someone too large for me to pick up and place in his bed for a nap, stronger measures were required. When he could not shake off the second-hand attitude, we removed him from the group.
In each of these cases, a second-hand attitude was inflicted by others, then adopted and brought home by an unwitting recipient. The infectious attitude was not previously held by the recipient, nor was it accepted by the recipient's family, but there it was nonetheless. Second-hand attitudes do not have to stick. I usually had to explain in matter-of-fact terms exactly what I found undesirable about the attitudes that had come home with my children, but once they understood what to watch out for, they could more easily spot problematic attitudes in their friends. Their motivation for careful attitude analysis was the guarantee that the relationship would be terminated if the attitudes continued to come home. If the friendship itself was beneficial, it could be allowed to continue — but the poison attitude had to be eliminated.
A common childhood ploy is to say, "But Amanda's Mom doesn't care that she acts this way," or "Joey talks like this all the time." My response to that is, "Joey and Amanda should be very glad that they are not my children. If they were my children, they would not be allowed to act like that." That reaction helped my children immeasurably to see that other families may have different values from ours, but it is our values that rule in our household. While it is rarely possible to discipline someone else's child, I have gone so far as to look an offending child (who was not my offspring) straight in the eye and say with a firm smile and without flinching, "You are so lucky that I am not your mother." My meaning was seldom lost; they nearly always stopped the unwanted behavior or dropped the selfish attitude and behaved in a more civilized manner. They already knew how far over the line of acceptability they were, but they needed a reminder that someone else was watching.
A positive viewpoint is a wonderful thing to bring home. An encouraging outlook cheers everyone. Conversely, an attitude that produces negative changes in behavior has a nasty effect on everyone who even comes near. I have learned the hard way that I cannot allow these unwanted attitudes to infect my family. I have no problem restricting associations that prove harmful to members of my family. I might decide to skip activities, stop arranging play dates, or just say, "If you continue to bring home _____'s attitude, you will no longer be allowed to go see him/her." The friendships were not more important than the relationships within our family.
By homeschooling, our children's friendships are naturally more limited than those of their public schooled counterparts. If my children were only going to have one or two good friends, I wanted those relationships to be worthwhile. Another mom I knew from a very remote area would travel any distance to allow her teen to interact with any other teens, even those of questionable character. I disagreed; I was willing to "go the distance" for a positive, worthwhile experience, but not just because a child demanded to go. Perhaps I have the mercenary tendencies of "what's in it for me," but I believe there should be some benefit to my child to make the relationship valid. My child may merely gain experience as a mentor or role model by befriending someone less outgoing than himself, but that in itself is a healthy, positive thing. Picking up harmful second-hand attitudes from those friendships is neither healthy nor positive.
Parents, you have permission to control who your children's friends are. If your children are old enough or stubborn enough to react negatively to your decision to end their friendship with an unfavorable character, let me assure you that God is just as concerned for your child's welfare as you are. I have seen many cases where parents prayed for a friendship to dissolve, leaving their child unaffected, and watched exactly that take place. Usually, the offending "friend" became disinterested in continuing the relationship and moved on. At other times, the child's eyes were suddenly opened to how he was being misused in the relationship, and he broke it off himself.
It took a few tries, but my children finally learned that they could recognize the symptoms of an unwelcome attitude and take steps not to adopt it themselves. In the case of my small daughter going to Grandma's house, I told her before she left that I expected her to behave the same way at home after visiting Grandma that she had behaved before she went to Grandma's. She understood that I expected her to be just as helpful and kind when she returned, even though she had not had to lift a finger to help while she was away. There were several times after that that I would notice her begin to respond one way, then catch herself, and change her reaction. Sometimes, she would change a verbal response. At other times, it was just a look on her face that betrayed the presence of The Attitude, and then The Attitude disappeared, leaving her countenance clear and free. In my son's situation, it was beneficial for the other boys to have him present as a positive role model, but even that relationship had to be ended when it did more harm to him than it did good for them. The welfare of our own family had to take priority.
I read once that the things other people do to us are like bags of garbage they leave on our doorstep. We cannot prevent them from dropping their trash here, but we do not have to bring it inside and spread it around on the furniture. A Second-hand Attitude is nothing more than someone else's garbage that gets dropped on our doorstep. However, we can recognize it as their trash and refuse to put it on and wear it as our own. If your children bring home an undesirable attitude, help them to recognize it, eliminate it, and take steps to avoid it in the future. If the attitude continues to prevail, do not be reluctant to break off the relationship that generated the attitude change. Second-hand attitudes are infectious, and the welfare of your family must take priority.