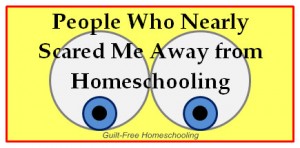 The following are examples from actual homeschooling families that I met throughout our homeschooling days. These are composite examples in that they each represent multiple persons and not single individuals. If the majority of families we met had been like these, I would probably not be here now, encouraging other families to try homeschooling. These people have the power to startle even the most dedicated of homeschoolers. If you meet any of them, please learn from my experience and do not be afraid. Look the other way.
The Pioneers
The Pioneers had more children than could comfortably fit into the average elevator. The number of children was not what bothered me: it was their mannerisms which I found slightly unnerving. Whenever I saw them, their darling girls could have balanced a book on their heads throughout the entire day, and their truly adorable boys were uncommonly quiet in cleaner jeans than most little boys like to be caught wearing. However, these children all moved with determined slowness and rarely made eye contact with anyone outside their family unit.
There was something eerily unnatural about that many children being that quiet — always that quiet. Seeing them for the first time, I made a mental note to train my own, smaller brood to behave so well in public. Seeing The Pioneers multiple times, in various circumstances, left me wondering if these children were ever allowed to play or act like children. I could not help but wonder if, when they played tag (did they play tag?), did they still move so slowly and sedately?
Every member of The Pioneer Family had a dour, gray complexion; they were all skinny and unhealthy-looking, like anorexic, cave-dwelling mannequins come to life. They attended every homeschool conference, stationed at their booth in the vendor hall, selling some type of nutrition products. I wanted to take the children outside to play in the sunshine. I wanted to give them puppies and kittens and candy and tell silly stories to make them smile. I wanted to lead them in a rousing game of hide-and-seek or tag. And I wanted to stay far away from whatever they were eating (and selling), if that was what made them look and act the way they did.
The Pusher
Not an illegal drug dealer, but the gloating know-it-all type of man or woman who pushes other people into doing what he or she wants them to do. One Pusher I encountered had very small family, she did every activity imaginable with her very small family, she seemed to detest anyone who was part of a larger family, and she refused to understand why other families did not want to do all of the activities that she was doing. She bragged about all of the activities they had done in the past, she bragged about what activities they were going to do in the future, and she told you how you should be doing any activity you were foolish enough to mention in her presence. She had more confusing rules for homeschooling than the IRS has for reporting income, and she ordered people around like a drill sergeant. She gave me a strong desire to go AWOL.
The Dragger
A puller, as opposed to The Pusher. This overly enthusiastic person also wanted to do every conceivable activity, but this one insisted on dragging everyone else along with her. She did not tell you what you should be doing — she picked you up in her car and took you there. One Dragger that I knew intended to return her children to public school after a brief stint in homeschooling, and she crammed more studies and activities into each year than some homeschoolers will cover in five years. She put enough bells and whistles into her lessons to make Martha Stewart tired. Then she stopped homeschooling, and I felt like I could breathe again. I even opened my curtains again and unlocked my door.
Goldilocks
The Goldilocks Family, to be precise. The family I met had all little girls, who were all dressed in perfectly pressed plaid dresses with perfectly tied bows in their perfectly curled golden ringlets. They recited perfect poems and sang perfectly harmonious songs and wrote perfectly penned essays. They were never loud or boisterous. They never ran or cut in line or pushed or shoved. They never got dirty — hey, they never even wrinkled. Point me to a soft bed — I think I need to lie down.
Doogie Howser's Family
Actually, that name is unfair to young Dr. Doogie. In the television family, Doogie was mature beyond his years, and his parents had endeavored to give him "normal" childhood experiences to balance his extraordinary achievements as a 16-year-old medical intern. The "Howsers" that I met tried to convince everyone that their children were geniuses and child prodigies. These pushy parents valued pride and progress above the innocence of childhood. Their incredibly average children were raced through double lessons each day, more for the sake of making progress than for actually retaining anything. The parents were obnoxious beasts, and the children were equally obnoxious beasts. I do not know what they intended to do with obnoxiously beastly 12-year-olds who were supposedly ready for Ivy League colleges. I do know what I wanted to do with them.
Oddly enough, the few children I have met in my lifetime whom I actually felt were geniuses or prodigies were neither obnoxious nor beastly, and their parents did not have to force them through lessons but rather found themselves in a constant race to keep up with their insatiable offspring, quite similar to the characters from "Doogie Howser, M.D."
The Paper Shufflers
One Shuffler kept track of every book he had ever read — title, author, publisher, number of pages, genre, and so many more details that I had to stop listening. I must also mention the Shuffler families whose children wrote so many essays, reports, poems, stories, novels, and other compositions that their year-end displays resembled a tax-preparer's office in April — piles of papers everywhere you looked.
Another Shuffler had a large room in her house with a massive filing system for any paper her students had ever used or that she might ever have a desire to use — coloring pages, worksheets, maps, lists — and again I had to walk away before I heard any more. (Do not mistakenly assume that she would ever share her vast resources with anyone else — she just wanted everyone to know that she owned it all.)
Yet another Shuffler kept obsessive amounts of detailed records of their lessons — lessons planned, lessons in progress, lessons completed, lessons graded, lessons filed away for future reference. I started out keeping moderately detailed records, but I had too much fun homeschooling my children to spend our days shuffling all those papers and writing intricately detailed records. Writing it all down would indicate that someone, somewhere, someday, might be obligated to read it. (And write yet another report on it all!) I will not be that someone. I will be outside with a flock of giggling children, covering the sidewalk in grand Seuss-ian murals with multi-colored chalk.
The Activists
Political activism can be a wonderful thing. After all, it was the foundational element of this great nation. However, I have met a few scary homeschooling families who took their political agenda to new heights. I have received phone calls from The Activists, deceptively sounding as though the purpose of the call was for homeschooling matters, only to have them suddenly turn toward political issues once they had my attention. Believe it or not, there are times when I just want to enjoy an activity with my family — without being pressured to sign a petition first.
Learning to Look Away
The Pioneers might have scared me away from homeschooling, causing me to think that I must have an enormous family to make homeschooling worthwhile, or that my homeschool would only be successful if my children were perfect models of grace and dignity at all times. I did not succumb to the implied guilt message that proper homeschoolers eat only hard, crunchy things that look like they could survive a nuclear holocaust. Their food, clothing, and lifestyle choices were really not the disturbing issues: what really bothered me was the robotic, Stepford Wives-aspect of the children's actions (or lack of said actions). I chose, Guilt-Free, to envision that they behaved more normally at home, especially while waiting for a dawdling sibling to vacate their home's single bathroom.
The Pusher might have scared me away from homeschooling, causing me to think that I was not doing enough activities with my children. I did not yield to her implied guilt message that the only worthwhile activities were the ones that she had chosen, and that skipping any of her chosen activities would leave my students with a woefully deficient education. While I will admit that, in the beginning, I did try some of this Pusher's activities, I soon left her extensive list behind, Guilt-Free, in favor of things we chose ourselves.
The Dragger might have scared me away from homeschooling, causing me to think that I must do everything now. I did not give in to her implied guilt message that there is no time like the present. While some things are worth doing now, many things will still work just as well later — when my family's schedule has more time available. I learned to give The Dragger a firm "No, thanks" and scheduled lessons and activities in accordance with our own desires, Guilt-Free.
The Goldilocks Family might have scared me away from homeschooling, causing me to think that my children should always be picture-perfect examples of cleanliness and deportment. I did not surrender to their implied guilt message that the only good child is a well-dressed, well-mannered child. God made the dirt, as well as the water, and if He chooses to bless us with rain, we should not ungratefully refuse to play in the mud. We enjoyed playing, we enjoyed nature, we enjoyed childhood, and we enjoyed occasionally being silly or muddy or messy, Guilt-Free.
The Doogie Howser Family might have scared me away from homeschooling, causing me to think that our homeschool efforts had failed if my children ever balked at doing assignments, did not beg for extra lessons, or were not ready for college before they hit their teen years. I did not submit to the implied guilt message that the only truly successful homeschooling method is one which catapults your students years ahead in academics. Lessons actually learned meant much more to us than progressing through workbooks at warp-speed. We discussed things we had learned away from the books and marveled at the simplicity of those lessons, Guilt-Free.
The Paper Shufflers might have scared me away from homeschooling, causing me to think that the only lessons that count are the ones that have been planned out on paper and produce even more papers in the form of journals, reports, or other written assignments. I did not believe their implied guilt message that the merit of a lesson is equivalent to the size of the stack of paperwork it produces. Once again, we discussed things we had learned spontaneously, away from the papers and the planning, and marveled at the simplicity of those lessons, Guilt-Free.
The Activists might have scared me away from homeschooling, causing me to think that homeschooling and political awareness must go hand in hand. I did not crumble under their implied guilt message that the only worthwhile homeschooler is a politically aggressive homeschooler. While I applauded their energy and, at times, I may even have envied their involvement in truly important issues, I eventually realized that our own non-involvement in those same issues did not demean or negate our academic efforts. When we had the time and the energy, we did support topics that we felt strongly about, but the rest of the time, we continued our schooling without petitions, telephone solicitations, or informational leaflets, Guilt-Free.
Throughout your own homeschool journey, you will very likely meet a few characters as scary as these, perhaps some who are even scarier. Do not allow them to frighten you away from your desired goal. Look the other direction, change the subject, or just walk quickly away. You are not being rude — you are rescuing someone very vital to your children's academic future: yourself. Maintain your focus on your own homeschooling methods — the things that you know work for yourself, for your students, and for your entire family. Homeschooling methods must keep everyone relaxed and comfortable, and they must fit your family's lifestyle in order to be Guilt-Free. Remind yourself as often as necessary that things are seldom what they seem, and realize that something very traumatic must have happened in the lives of The Scary People to send them to their extremes… and you would not want to have to go through that yourself.