Kids love costumes. Dressing up in fanciful attire does something to spark a child's imagination. Turn your children loose with a boxful of dress-up items, and they will be busy for hours, dressing up, imagining, changing, playing, wondering, and becoming many different characters.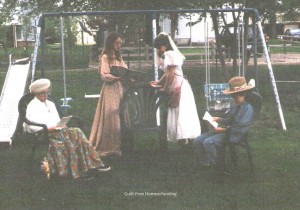 When I was a little girl, my family had a large box of dress-up clothes. I remember playing with them for hours and hours. My favorite Halloween costumes either came out of this box or were added to it after the treats were gone. Specialty items were gathered and quickly tucked into the box. Fanciful costumes created for school plays also went into the box once the performances were over.
Many years later, I created a dress-up box for my own children. They spent many afternoons trying on everything in the box, sharing the costumes with friends during play days, making up skits to fit their costumes, and doing it all over and over again. Some days they dressed up as elegant ladies and gentlemen and held fancy "tea" parties; other days they strived for the goofiest costumes possible and convulsed with laughter and delight.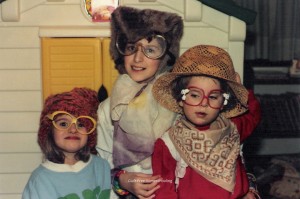 As dress-up quickly became one of my children's favorite activities, I began searching for specific items to round out their collection. I cleaned out closets and shopped thrift stores and yard sales for wonderful items: a faded prom dress had been discarded in a yard sale "free" box, and my daughter played with it for years afterward. Here are some basic categories of dress-up goodies to help you get started on your own fanciful fashion collection.
1. Hats. Ladies' hats; men's hats; silly, Dr. Seuss-style stocking caps; construction hard-hat; sailor hat; baseball caps; cowboy hats; berets; English-style driving caps; plastic crowns and tiaras; any type of specialty headwear you can find! We had extra boxes just for hats to keep the fancier ones from being crushed.
2. Skirts and Dresses. Elastic-waist skirts, with the elastic made tight enough to fit small kiddies. Full, twirly skirts are best! Dresses are wonderful, especially an old prom dress or bridesmaid's dress with lace, sparkles, and/or layers of ruffles. My mom sewed spaghetti straps onto a formerly-strapless 1950's prom dress so that it could hang from my ultra-thin childhood frame. She also made me a "Miss America" banner (which I still have to this day) when I entered the 2nd grade costume carnival in my beautiful gown. It didn't matter to me that some of the canary-yellow lace ruffles were torn or that the gown was woefully out of style–I loved it and felt very special when I was wearing it. It was originally designed as mid-calf in length, but it dragged on the floor when worn by a 7-year-old, making me feel beautiful and elegant in my tattered, hand-me-down gown.
3. Vests. Dark colors or leather vests work just right for playing cowboys or sheriff. Add a necktie for a businessman's look. (Keep the knot tied, and just loosen it to slip over the child's head. For safety with very small children, hand-stitch the knot in place, then cut the tie at the back of the neck and sew in a section of elastic.)
4. Suit Coat or Blazer. Don't forget that boys like to play dress-up, too! And both boys and girls have fun dressing up as Mommy and Daddy.
5. Gloves. Any colors, all lengths–children love gloves. I snagged opera-length gloves in bright turquoise and short brown gloves trimmed in shiny gold glass beads at a yard sale for 25 cents per pair.
6. Costume Jewelry. Ear clips, bangle bracelets, long strings of beads–the gaudier, the better. Old eyeglass frames (lenses removed) and sunglasses fall into this category as well. You may want another box just to hold the junky jewelry!
7. Shoes. I combed dozens of yard sales before I found the ultimate treasure: women's black suede pumps in a petite size 5 (for only $1)–the perfect size for a small child to clomp around in. We also had a pair of lace-up shoes large enough that my youngsters could put their foot (shoe and all) inside them for clown shoes they could actually walk in!
8. Furs. Fake furs are best for wash-ability after tea party accidents. We had stoles, wraps, and hats. (Real furs can be quite heavy, especially if the garment is very large and the child is very small. Real furs also attract insects to your dress-up closet!)
9. Scarves. The larger, the better–a really large scarf can double as a superhero's cape, a princess's train, an elegant shoulder wrap, an apron, a doll blanket, etc. Include remnants of lace (even a discarded lace tablecloth or lace curtain panel) for veils or wedding dress trains. Remember to include bandanas for your cowboys.
10. Props. Plastic swords, holsters and six-guns, purses and tote bags, a sheriff's badge, artificial flower corsages, aprons, suspenders, tool belts or carpenter's nail aprons, etc. Bring out the toy dishes for the tea parties, the toy doctor's kit and old elastic bandages, and the play tools and an afternoon of make-believe will be unstoppable.
We tossed everything into a huge cardboard carton, large enough that the children could clean up after themselves easily. The size of your storage box is important: it should easily hold everything when tossed in carelessly. Folding the garments as they are put away will result in better looking costumes at the next play session, but diligence sometimes gives way to speed in clean-up. From time to time, I went through the items as we cleaned up and sorted out things which needed laundering, mending, or disposal.
A full-length mirror is another valuable item–the children will love seeing their creative couture, and the resulting giggles will fill your home with the sounds of happiness. Be prepared for costume parades, spontaneous dramatizations, and strange looks from the neighbors if your children venture outdoors in their finery. One mom even asked me how we created a hoop skirt, and she praised our ingenuity: several sizes of hula hoops suspended with string from a belt worn underneath the full-skirted dress.
My children are now grown, but they still cherish their favorite costume pieces and manage to find uses for them year after year. They also find new items now and then that they want to save for their future children's dress-up collections! Dress-up and make-believe are excellent ways to ignite a child's imagination, stimulate creative thinking, and reward Mom with a bit of free time while the kiddies entertain themselves.