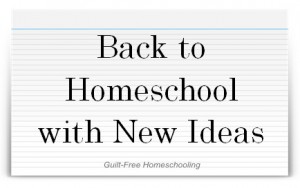 Back to School signs are everywhere. The stores are stocked with new boxes of crayons, new notebooks, and new backpacks. If you are not quite ready for the next semester to begin, it may be because you feel insufficiently prepared for it yourself. Where are the new school supplies for you — maybe some new coping skills, a new supply of encouragement, and a new box of ideas?
If you are a First-Time Homeschoolerand are beginning with a preschooler or Kindergartner, these articles contain the coping skills you need for this new task ahead of you.
For those of you who are Leaving Public Schoolto begin homeschooling, the following articles will give you a generous dose of encouragement.
Perhaps you have been teaching your own children for a while now, but feel that you are Stuck in a Homeschool Rut. Here are some fresh ideas to break the boredom and put a little life into your tedious routine.
Maybe you have just "hit the wall." You've come to the end of yourself, and you don't know where to turn next. You love the idea of homeschooling, but you just can't find one more lesson inside yourself.
No matter what your homeschooling status, be assured that you are not alone. Guilt-Free Homeschooling is here to help you with a comforting hug, a large dose of encouragement, a bonus scoop of confidence, and answers to your questions. Let's have a great year together!