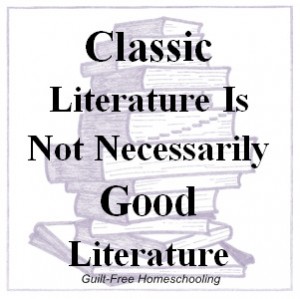 Yes, Johnny IS reading, but WHAT is he reading? Decide if the subject matter is something you want your student to devote hours and hours to before you assign the book. Many selections being sold today as "must have" children's books are not anything I would want to have in my home. Contemporary children's authors seem to think sibling rivalry is to be encouraged, unacceptable behavior is heroic, and deplorable grammar is an effective method of identifying with the reader.
I recently read an advertisement for a children's museum exhibit featuring a popular cartoon character. The theme of the exhibit was "Reading is Cool." I happen to disagree. Reading, as an isolated activity, is not necessarily cool. The subject matter could make the reading into a very "uncool" activity. We should be teaching our children not only the skill of reading, but also teaching them the much more important skill of selecting quality reading matter: is this book a good model of grammar usage, or does the author continually "break the rules" in an effort to grab an audience? Is the subject matter worthy of my time, or do the characters run contrary to my family's standards and values?
Additionally, just because a story has been around for decades does not make it worthy of your time. Many "classics" (as described by literary critics) merely focus on subject matter that no one else had yet dared to tackle, e.g. The Scarlet Letter/adultery. Before taking a recommendation from anyone, know what their standards are. The same standards-screening principle applies to movies, videos, computer games/software, etc. as well as books. Occasionally, I felt the need to read a book myself to determine its worthiness before allowing my student to read it. Not only was it a great use of my time, but it also gave us a wider scope in discussing the book later — plus the student was able to see a parent devouring a book, something all too rare in today's video-saturated world.