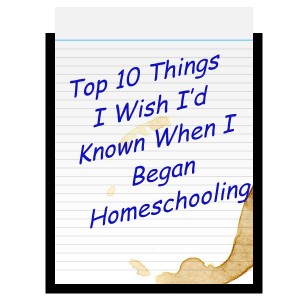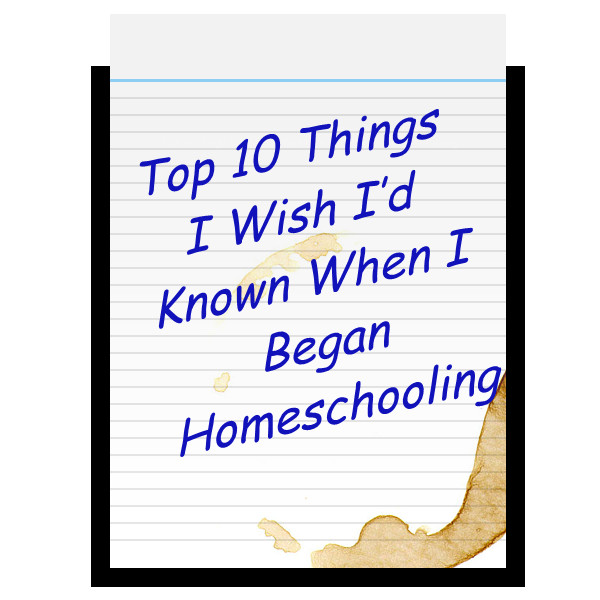 Whether you are beginning homeschooling after removing your children from an institutional school or are starting by simply not sending your little ones to preschool or Kindergarten, I can offer you some valuable been-there-done-that advice. File this under "If we'd only known…"
10.       The "classroom model" is counter-productive to learning.
Seating students in tidy rows of individual desks is only beneficial if the teacher needs to maintain control over a crowd of students by herself. Ditto for periodic testing. Double ditto for asking permission to speak or to use the bathroom. Let them do science in the backyard; let them draw while lying on the floor; let them read in the treehouse; let them compare prices and quantities as math while grocery shopping. Demanding attention, waiting for silence in the room, waiting for all eyes forward, waiting in line—all are dehumanizing tactics meant for crowd control or to break the spirit of the individuals. These methods are used with new recruits in the military—and in prison. Exploration is the birthplace of genius, but when was the last time anyone turned loose a classroom full of students to randomly discover their hidden genius?
9.         Schedules are made for faculties, not families.
Who in their right mind would put constraints on learning? What parent would tell their child "No, I'm sorry, Sweetie, but I can't let you learn any more today"? Schools insist that learning must take place between the hours of 8:30 a.m. and 3:30 p.m. on Monday through Friday, September through May—and then they are disappointed that the students' skills diminish over summer break. Homeschooling parents can sneak in "stealth" lessons on trees or flowers or bugs during a family picnic. Homeschoolers can browse an antique store during a weekend outing and turn it into an impromptu history lesson. Homeschooling students can help Dad change the oil or re-grout the bathtub or trim an elderly neighbor's bushes… and get credit for learning valuable lessons at the same time. Learning opportunities abound every moment and every day. Never stop learning, and never stop looking for the "teachable moments."
8.         Reading and lecturing alone are insufficient teaching methods.
Textbook directions and diagrams only went so far in helping my kids learn. I soon found myself drawing different diagrams (if only bigger or more colorful), explaining concepts in multiple ways, or using borrowed game pieces as manipulatives to illustrate concepts. We did lessons outdoors; we did lessons on the floor; we used board games as lessons; we used videos as lessons. We acted things out; we made up rhymes; we used sign language to help us remember things. We added bright colors; we built models; we made flashcards; we invented games to help in practicing new skills. I had my kids teach difficult concepts back to me to be sure they understood them correctly. We used every possible method we could think of for illustrating and demonstrating lessons—and it worked. It worked very well.
7.         Every homeschool is different. Don't let anyone convince you otherwise.
Each family will need to use the methods and materials that fit their own children's needs. It's supposed to work that way; it has to work that way; that is why we are homeschooling in the first place. It is beneficial to share with others what has or has not worked and why, but each family needs to run that input through their own filter. Trying to mimic what others have done is a trap destined for failure. Borrow their idea, if you really like it, but adapt it to your own family's tastes. If it works well, continue to adapt it and keep changing it as your needs change. If it doesn't work well, either make enough changes that it will work or toss it back and try something else. You have your own preferences, you have your own values—build your homeschool around those, and ignore the Homeschooling Joneses. Two (or more) families can use identical materials, but still use enough variations in supplemental activities that their lessons will look nothing alike.
6.         Students need academic success to build their self-confidence.
I didn't realize that my (former public school) kids would need to see that they were capable of learning on their own… without the collective input of two dozen other kids backing them up. They needed to learn that they could move on to the next concept as soon as they had mastered this one. They also needed to learn that I would not push them to move on until they had mastered each concept, whereas classrooms move on with as little as one correct answer and, at most, one-third of the room understanding. Most of our first year of homeschooling was spent in learning how to learn and learning that they could learn. Once they had acquired confidence in their own abilities, things progressed much more quickly and much more smoothly.
5.         The price of the materials has nothing to do with the amount of knowledge your students will gain.
We found used materials at book swaps and garage sales. We used hand-me-down materials from relatives and found great learning games and toys at thrift stores and flea markets. We made our own cheap versions of fancy educational gadgets from cereal boxes and tape and glue. I even made up my own lessons when I couldn't find suitable materials to purchase. Purchases of popular, highly recommended, expensive materials often turned out not to be a good fit for us. We often learned more from the inexpensive items than we did from the pricey ones. Shiny boxes and high price tags do not automatically equal success.
4.         Fit the materials to your students' preferences and expectations.
My daughter's former school did not have enough books, and they treated workbooks like textbooks, requiring every student to copy lessons into personal notebooks. One thing my daughter reallyreallyreally wanted from homeschooling was to have her very own personal workbooks that she could write in and decorate with gold star stickers. Done: I ordered a workbook. One thing my daughter reallyreallyreally didn't ever want to see again was a red pencil mark on her papers. Done: I used bright orange and lime green and sky blue colored pencils to correct her work. Problems solved. Focus on the learning.
Find out what your kids expect homeschooling to be like. Find out what they do want and what they don't want. Ditto for yourself and your spouse. Homeschooling should not be about one parent's dream to play school with desks in a row and maps on the walls (although desks and maps are wonderful learning tools, they should not be the primary focus); homeschooling should be a learning adventure for the whole family. It's okay to keep some parts of the school model, if what your family really wants and needs is that consistency. It's okay to scrap all preconceived ideas and start over from scratch, if what your family really wants and needs is an Opposite Day educational experience. It's also okay to use this method for this student and that method for that student, if that is what they really want and need.
3.         Finding gaps in foundational skills is proof of academic success. (just fix 'em before moving on)
I was under the mistaken assumption that I could just begin teaching where the school had left off. I was also naive enough to think that the public school teachers had made sure my kids had understood everything… correctly. I was wrong on both counts. We had been homeschooling for only a few weeks when we hit our first educational pothole. The math book expected my child to work with fractions, and my child was horribly confused about fractions and what to do with them. I ordered some workbooks that focused solely on fraction math and put the regular math lessons on hold until my child was confident in handling fraction problems. These workbooks made fractions very simple to understand, but my child became incredibly angry and frustrated—but not at learning fractions—she understood those concepts very quickly, once they were explained adequately. Her anger and frustration came from seeing how simple fractions were to understand and remembering how difficult and complicated her teachers had told her fractions were.
We found materials to fill in each gap of missing knowledge, and then we moved on. Regular lessons in any given subject were suspended until that particular pothole was filled (the time varied from minutes to days to weeks), but once we could resume the lessons, the progress always came faster. We found numerous potholes during that first year, but by the end of that year, my children were learning with confidence and gaining ground rapidly. Every pothole proved to us that we were learning—if we hadn't been making progress, we would never have discovered the potholes.
2.         Play is learning, and learning should be fun.
Children work diligently at playing, whether they are building sand castles, playing dress-up, or roller-blading on the driveway. Kids wear themselves out having fun, and they learn important lessons from their playtime. They learn that moist sand packs best; they learn that long skirts and high heels don't combine well with stairs; they learn that balance is very important in skating as well as in life.
Do you remember being eager to get your driver's license? Do you ever hate waiting for a new movie to come out after you've seen the trailer for it? Have you ever called a friend to tell them all about your latest accomplishment? That is the excitement of learning!
What you do in your leisure time is your version of fun, whether that means reading a book or watching TV or painting your toenails or fishing for The Big One. If it wasn't fun, you would do something else with your leisure time. Now look at what your children do during their leisure time—and find a way to incorporate those methods into their lessons for some really motivated learners.
1.         Mom = Teacher = Mom (or Dad)
The first time Mom answers her student's question, a miraculous transformation takes place: the student realizes that Mom knows stuff. Each answered question builds that reputation, and answering "I don't know, but let's try to find out together" increases the thirst for knowledge.
Parents have a unique advantage over traditional classroom teachers, in that parents can admit they don't know all the answers. Homeschooling parents can use a bunny-trail question as the next teachable moment without disrupting an entire room full of students or getting hopelessly off a pre-set schedule.
Parents have a dynamic relationship with their children that allows snuggling during particularly difficult lessons. Learning to read is a magical milestone that should be celebrated with hugs and kisses and shouting and dancing, not relegated to the far corner of the room and conducted in hushed voices. Parents know instinctively when their child can be encouraged to try one more time and when that same child will benefit most from taking a break. Parents see their children day and night, weekday and weekend, season after season, year after year, on good days and bad days, in sickness and in health. Parents know what their children want and what their children need—and they will move heaven and earth to provide for them
Teachers are motivated by a paycheck and a sense of duty; parents are motivated by love. When a random child acts out in a classroom, the teacher seeks to make the disruption stop, even to the point of removing that child; when a parent's own child acts out at home, the parent seeks to determine the cause of the problem and remove the problem, not remove the child. No one can know any given child to a greater degree than that child's parent, no one will love a child more than that child's parent, and no one can be a better teacher for a child than that child's parent.
As homeschoolers, the most important thing to focus on is learning. If something is getting in the way of the learning, it becomes a stumbling block and is probably not all that important. Do things in a different order, try another method, or set that material aside for a time and see what happens. Homeschooling should be about learning, not about following in someone else's precisely spaced footsteps. We made the most significant progress when we focused on what we were learning and stopped worrying about how we were learning it. Focus on the learning, and watch it happen!